Like many companies across the globe, Hansen Plastics Corporation participated in celebrating Pride Month, and help bring awareness to the issues and challenges those in the LGBTQ+ community can sometimes face.
During the month of June, HPC employee owners were informed on achievements and milestones of the LGBTQ+ community as well as information on how to be a good ally and what are the meanings of the colors of the "rainbow flag".
HPC prides itself on supporting the communities in which their employee owners work and live.  It was in this spirit that HPC decided to do a raffle fundraiser to benefit The LGBTQ+ Center at Kenneth Young.  HPC employee owners purchased raffle tickets for the chance to win a prize basket with items donated from other various organizations, solicited by the Employee Engagement Committee at HPC.  Tickets were available the entire month of June, and due to the generosity of the HPC employee owners, the total donation to the LGBTQ+ Center at Kenneth Young was $1,000!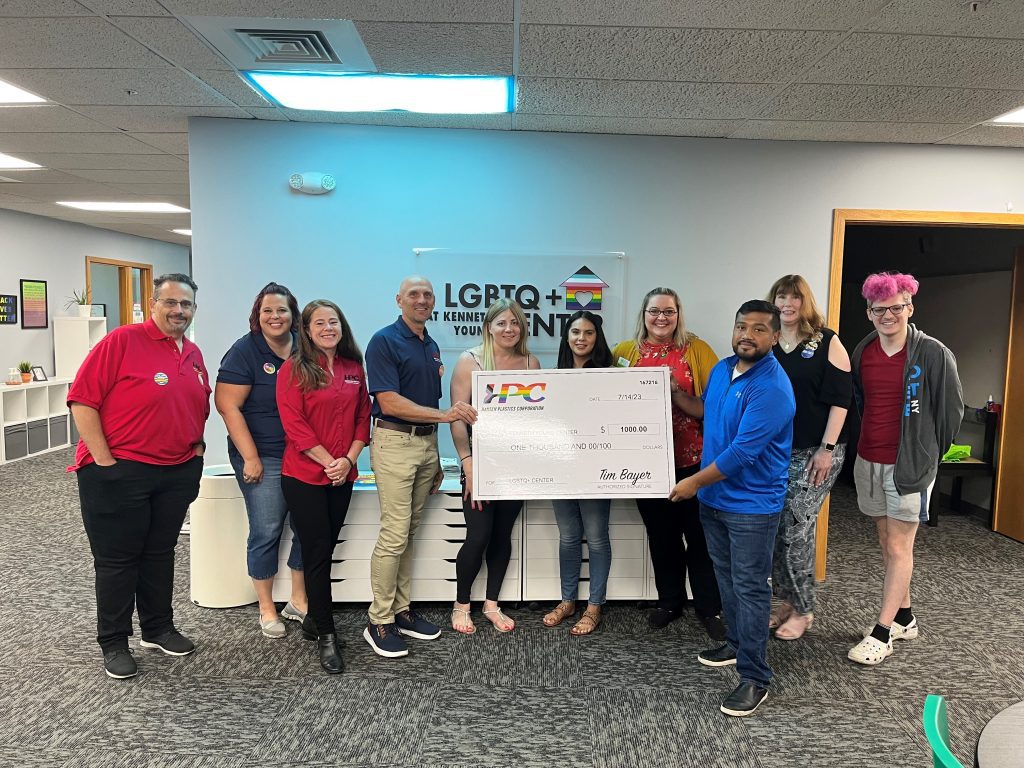 HPC's CEO, Tim Bayer, and HPC's Employee Engagement Committee were honored to be invited to visit the LGBTQ+ Center at Kenneth Young for the check presentation. "What an amazing space," said Corrie, one of the members of the HPC Employee Engagement Committee. "It's so great that LGBTQ+ teens and young adults have this outlet, a place where they can go to always be welcomed and be themselves. Outstanding facility and so many excellent programs to help them on their life journey!"
The LGBTQ+ Center at Kenneth Young offers help in support of different areas for LGBTQ+ teens and young adults. Community engagement programs, such as the Rainbow Room YAC, Community Night for ages 13-17 and Young Adult Community Night of ages 18-24 provide different opportunities for community fellowship. The "Q" Closet is where LGBTQ+ teens and young adults can go for clothing and undergarments that can assist in affirming their identities. Free STD testing is also available.
If you are interested in learning more about the LGBTQ+ Center at Kenneth Young, or any of the other assistance programs at Kenneth Young, please visit their website at www.KennethYoung.org.