HPC provides some of the nation's biggest companies in the appliance industry with quality plastic components.
In 2016, the US household appliances market was worth $43.34 billion, and that number is expected to continue climbing. This increase in value will be driven by numerous factors, including population growth and the implementation of "Smart" technologies. These new innovations make appliances more valuable to consumers. HPC provides some of the nation's biggest appliance manufacturers with quality plastic components. Each part is designed to improve the durability, visual appeal, and affordability of our customer's products.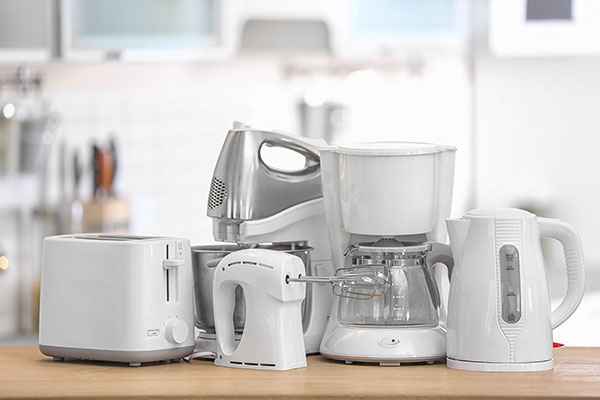 Improvements in Durability
Injection molding has revolutionized the appliance industry by allowing manufacturers the ability to order custom parts based on the unique needs of the project. For example, some appliances may benefit from specific resistances, whether to heat, chemicals, corrosion, rust, or more. The more durable a product, the longer it will last, and the more valuable it becomes to consumers. Injection molding affords manufacturers the ability to specify their own needs, and Hansen Plastics delivers.
Better Visual Appeal
Both major and small appliances are often out in the open in consumers' homes, so, it is important that the materials used in their design are both durable and visually appealing. Injection molding gives manufacturers a wide range of aesthetic options for appliances such as washers and dryers, dishwashers, ovens, refrigerators, freezers, ranges, and even small appliances like coffee makers and toaster ovens. When products look great in consumers' homes and exceed their expectations in terms of quality, this helps brands develop favorable reputations. Hansen Plastics stands behind our products and strives to help our clients grow.
More Affordable Manufacturing
Appliance injection molding has forever changed the appliance manufacturing industry in regards to product affordability. Manufacturers continually look for ways to reduce costs so they can pass the savings on to consumers and remain competitive. Injection molding is associated with fewer design errors, which means the expense associated with production is automatically reduced. There's less retooling involved, and there are opportunities for correction long before the manufacturing process begins. Finally, our clients appreciate our consistency, with each component produced just as high-quality as the last.
Why Choose HPC?
Injection molding is crucial in the appliance industry because it keeps things affordable for both manufacturers and consumers while providing increased durability and enhanced visual appeal. HPC's in-house engineers can assist during the tool design stage to facilitate moldable parts from the get-go. Our vendors provide high quality raw materials that ensure our clients receive only the very best components that meet project requirements. Our incredibly robust equipment ensures that we can meet even the tightest tolerances despite the complexity of your component needs. Finally, our adaptability will help you keep on schedule and on budget throughout the entirety of your project.
Please contact us for more information about how we can help you manufacture appliances that will set you apart from your competitors.