Giving back to the community in which they work is a proud tradition held by the employee owners of Hansen Plastics Corporation.  The company is active with multiple charity organizations, with employee owners donating money, items for clothing and personal care items drives and their own time, as well as HPC allowing employee owners paid time during their work day on occasion to contribute to these important organizations.
One of the charities HPC is heavily involved with is The Salvation Army.  HPC employee owners have volunteered their time to "ring the bell" during the holidays on All Volunteer Day for a few years now and in 2021 also participated in the Virtual Kettle and Design a Kettle Contest for the Christmas season.
As a thank you for all their time and dedication, HPC was very proud to accept the Bronze Partner Award at the first Christmas Partner Recognition Breakfast, held at Elgin Community College on March 10th.
"It was an honor and a privilege to be able to represent the employee owners of HPC who volunteer with the Salvation Army through our company at the breakfast, "said Corrie Caldwell, Sales and Marketing with Hansen Plastics.  "We always have people who are very excited to help out and give back, and though volunteering truly is its own reward, being recognized for our efforts is also a great feeling!  The employee owners of HPC look forward to volunteering through the Salvation Army for many years to come!"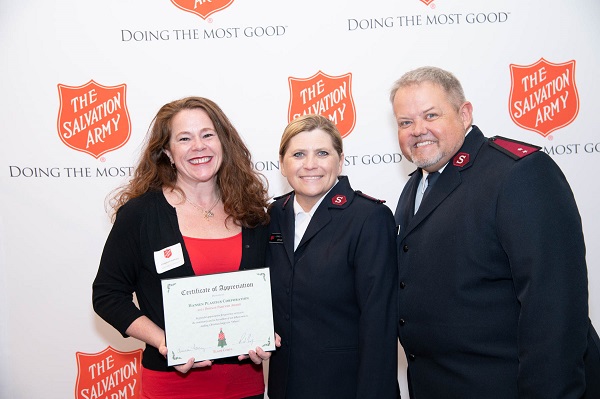 Hansen Plastics Corporation (HPC) is an employee owned, custom plastic injection molding that has been in business in Elgin, Illinois for 50 years.