HPC is proud to announce Debbie Cummins as the 2021 Q4 winner of the HPC Selfless Service Award.
Hansen Plastics Corporation (HPC) has seen success providing excellent customer service and quality plastic injected molded parts to their customers so they have fostered a culture of giving back with caring and compassionate service to others, whether at work or in their daily lives.
It is in this spirit that HPC instituted the Selfless Service Award. Nominations for the award come from the nominees' fellow employee owners at HPC, based on the following: provided comfort and care to others, how they provided social freedom to others, impact society in a positive way, or helped empower them or others.
The 10 nominees for the first HPC Selfless Service Award were nominated for selfless service, providing comfort and care, helping others develop confidence, positive impact on society, empowering others and impacting others economically.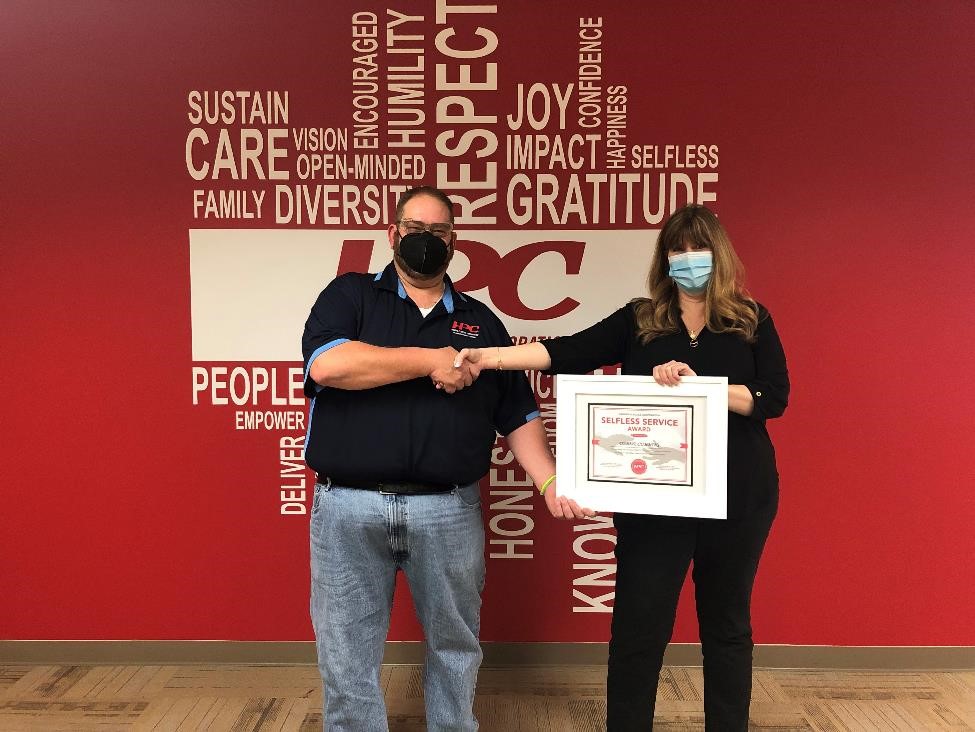 Debbie Cummins is the winner of the 2021 Q4 HPC Selfless Service Award. Debbie was nominated based on her positive impact on society and providing comfort and care. Debbie has been with Hansen Plastics just over 3 years and has been the spearhead for HPC's latest charity partnership with the Kane County Senior Citizens Council.
"First of all I'd like to thank all who placed nominations and congratulate all who were nominated. I'm honored to work among such a selfless group of individuals who do incredible things for their fellow colleagues and HPC," says Debbie.
"I naturally read all 11 nominations that were entered and when I saw my name among my fellow nominees I recused myself from the voting process. Among all of the truly wonderful contributions the others were nominated for I have no idea why I was selected.
I want to humbly thank all who nominated and voted for me and please take note that going forward, I prefer to stay on the giving end of this award."
It is this kind of humble gratitude that really exemplifies the qualities found in all of the HPC Selfless Service Award nominees.
The nominees for the 2022 Q1 Selfless Service Award have already been coming in! Stay tuned for next quarter's winner!!