Hansen Plastics Corporation knows that the way to consistently deliver quality plastic injection molded parts backed by excellent customer service is to foster a positive work environment for all HPC employee-owners. They pride themselves on a culture of caring for fellow employee-owners as if they are family. This is never more evident than when one of HPC's employee-owners, or a member of their family, is in need.
In late February, one of HPC's long-time employee owners came to their HR Department with some devastating news. Their 1 year old great nephew had been diagnosed with B-Lymphoblasic Lymphoma on February 8, 2021. By that point, Benjamin had already had two surgeries and he is expected to be treated with chemotherapy for the next two years. And that's when Veronica Flores, HR Manager at HPC, sprung into action.
Veronica spoke with HPC President & CEO, Tim Bayer, about the possibility of hosting a fundraising event for Benjamin that would also be in accordance with CDC protocols on Covid-19. A free will donation "tool box" was immediately put out in HPC's morning meeting area, with information about Benjamin and his diagnosis. A few days later, the official fundraising efforts were announced; a raffle for a 65" TV and a corn hole bags tournament, with a small entry fee. All money raised by the employee owners was then matched by Hansen Plastics Corporation.
The corn hole bags tournament was held over a week, with each individual tossing their bags with a scorekeeper present, in order to maintain social distancing. After some intense competition, Jesus C. from HPC's logistics department was the "Smack Talking Boss of the Toss" winner.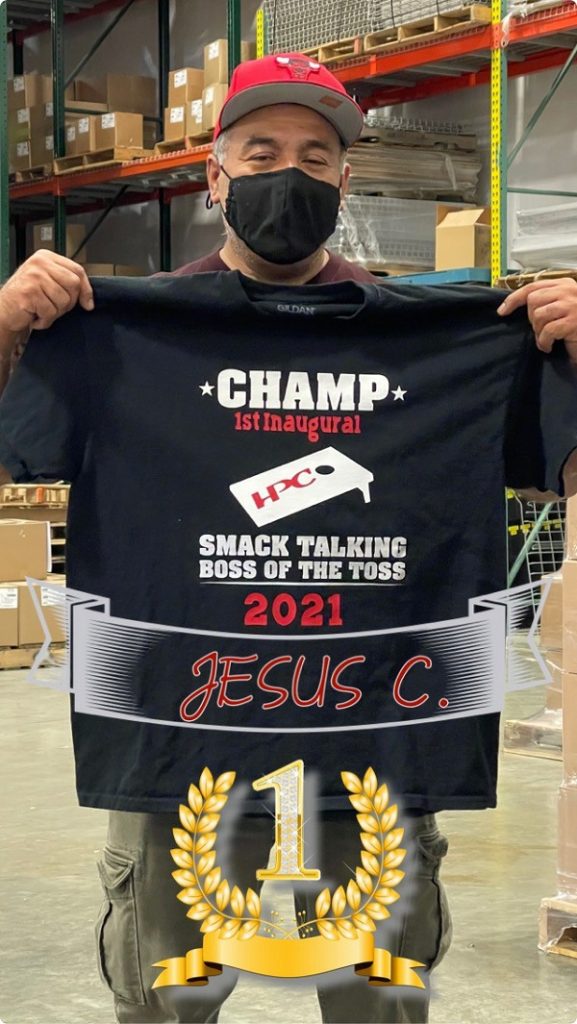 All told, between donations, ticket sales for the TV raffle, corn hole tournament entry fees and HPC's corporate match over $3,700 was raised to help Benjamin and his family battle his childhood cancer.